MECSPE and METEF 2022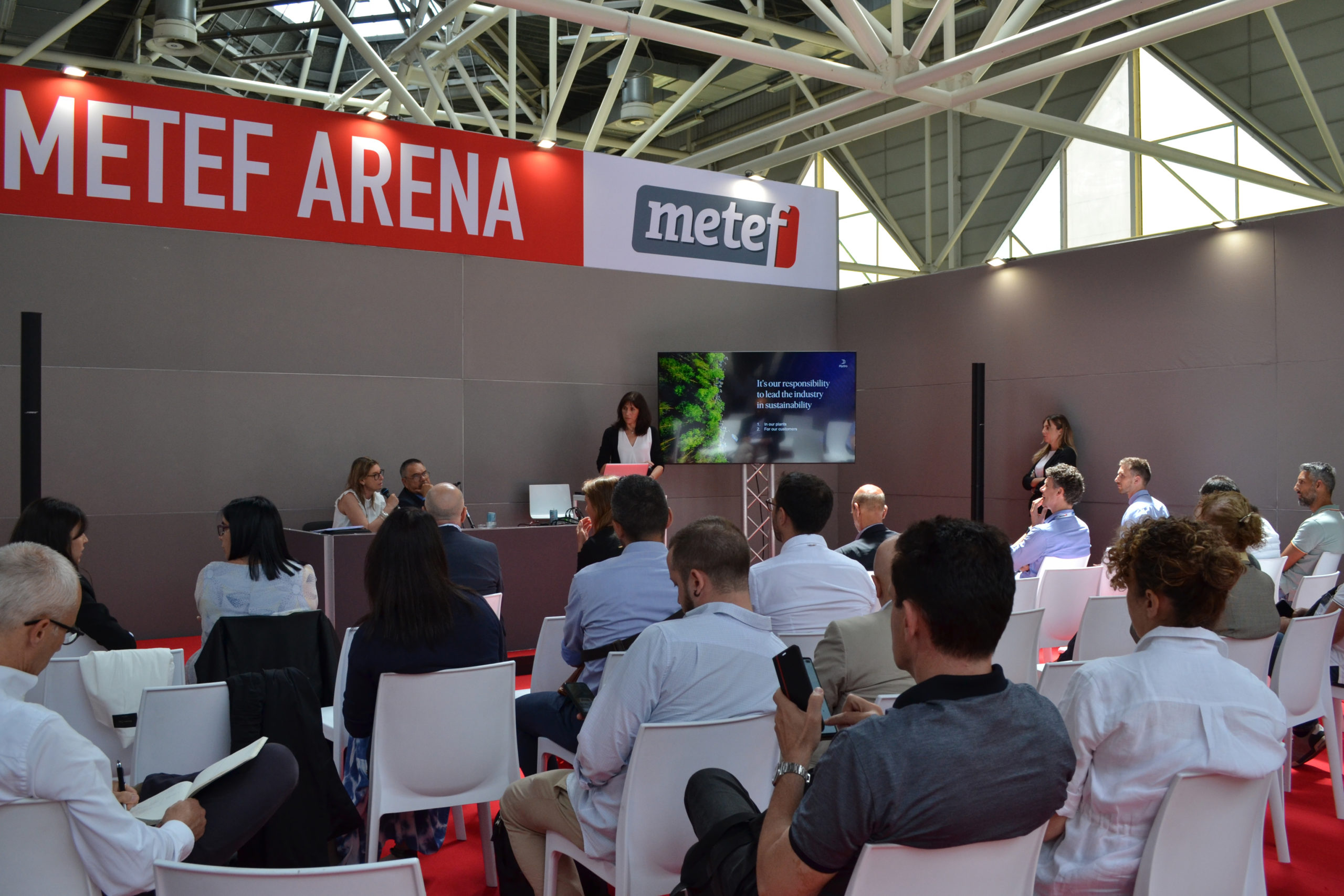 From June 9 to 11, the excellence of the manufacturing industry and the aluminium supply chain will are coming together at BolognaFiere for the new MECSPE and METEF edition
---
More than 2,000 companies on display, 92,000 square meters of exhibition space and many special initiatives to boost the manufacturing and aluminium sector
Milan, June 07, 2022 – The Italian industry is showing encouraging signs: according to the latest Istat data, the turnover of the whole sector grew in March (+21.4% compared to March 2021), reaching the highest level ever. In addition, business confidence also rose +2.5 p.p. in May (from 108.4 to 110.9 in April). A positive environment that reflects a healthy industry, which is looking to the future and growing, also in view of the NRP funds and the positive consequences expected in terms of investment and digital transformation.  More specifically, 4.0 innovation in the industrial sector will be the key theme of the 20th edition of MECSPE, Italy's most important exhibition on manufacturing, and METEF, the international expo for the aluminium, ferrous and nonferrous metal foundry industry, organized by Senaf and scheduled to take place at BolognaFiere, June 9-11.
Italian companies are massively taking part in the two events: more than 2,000 companies in total will exhibit their technological innovations in the 13 pavilions and as many thematic halls developed on the 92,000 square meters of exhibition space. An itinerary that will guide professionals to discover innovative solutions to propel the growth of manufacturing companies and the aluminium industry.
The MECSPE program will be particularly extensive, including as many as 16 special initiatives and will be developed on the three thematic keys inspired by the pillars for 4.0 growth: education, digitalization and sustainability. According to the latest MECSPE Observatory, a significant share of companies (almost seven out of 10) has already decided to kick off growth, via an ad hoc path, in the next two years. Training will involve both senior profiles and young people, along with the digital transformation process, and will play a key role in the very success of these enterprises.
"Everything is ready for this new edition of MECSPE, and, like every year we have thought of an exhibition and display environment meeting the concrete needs of companies," says Maruska Sabato, MECSPE Project Manager . " In particular, we know that navigating through complexity is not always easy, especially when it comes to updating digital skills. To support SMEs in manufacturing, we have dedicated our new "exhibition heart" to Training 4.0, with the cooperation of Competence Centres, whose role is precisely to assist companies in the process of digital transformation."
The MECSPE LIVE ACADEMY is the new flagship initiative of MECSPE and will develop over an area of 2,000 square meters, thanks to the support of companies and six national Competence Centres . An area designed for entrepreneurs and visitors, who will be able to take part in short training courses in order to see from the inside the potential of each technology on the production system of the digital factory, in a journey aimed at discovering the skills that are most vital for the development of the industry. Because it is important for growth to rely on adequate financial advice, among the new features of 2022 there is the Facilitated Finance Square, organized by Innova Finance and designed to provide timely support to businesses wishing to procure financing in line with achieving their goals.
METEF 2022's program is also packed with events aimed at taking stock of the latest news and the future of the industry, a veritable marketplace for fostering meetings between professionals in the aluminium industry, thanks to the many conferences, events, and special initiatives. It is no coincidence that aluminium is referred to as the "metal of the future" because of its technological flexibility and ability to be reused indefinitely: this is key to making the industrial sector even more sustainable and efficient in a circular economy perspective. A challenge that will be the focus of the Green Aluminium Conference, during which the decisive role this metal will play in Italian and European decarbonisation will be determined.
"The energy crisis requires us to find concrete solutions to the difficulties faced by sectors such as ours. The program of the new edition of METEF is projecting onto the international stage with the task of uniting all the players in the supply chain, both at the national and international level, to clarify the sector's priorities and find joint solutions," says Mario Conserva, president of METEF, "To achieve this goal,  the concomitance with the main fair for the manufacturing industry, MECSPE, which has been a point of reference for entrepreneurs who want to innovate production processes for years, is a key strategic element."
For further information visit www.mecspe.com.
The figures of MECSPE and METEF in a nutshell
92,000 square metres of exhibition space,  2,000 square metres of the Cuore Mostra MECSPE LIVE ACADEMY, 16 special initiatives and conferences.
MECSPE Exhibitions
Machines and Tools – Machine tools, Equipment, Tools and Design Software; Machines, Materials and Sheet Metal  Working – Bending, Stamping, Cutting, Assembly, Welding, Materials and Software; Digital Factory – Industrial Informatics, IoT, Industrial Sensing, Cloud-manufacturing, Automatic Identification Technologies, Applications, Devices, Instrumentation and Intelligent Components for Process Interpretation and Interconnection; Logistics – Packaging, Packing, Handling, Material handling, Lean manufacturing, Warehouse management software, Supply chain management, Safety systems, PPE, Outsourcing; Mechanical Subcontracting – Precision mechanical processing, Metal carpentry, Mechanical construction, Fasteners, Foundries, Small parts, Wire processing, Contract industrial processing, Micromachining; Electronic subcontracting – Cem (contract electronics manufacturer), Wiring harnesses, Ems (electronics manufacturing service), PCB (printed circuit board manufacturers), Engineering and design offices; Eurostampi, Machines and plastic, rubber and composites subcontracting – Plastics, rubber and composites processing, Machines and plants, Auxiliary equipment, Innovative materials, Moulding, Extrusion, Packaging, Blowing, Moulds, Models, Standardised components for moulds, Design, Simulation and design software, Micromachining; Additive Manufacturing – 3D printing, Rapid prototyping, Rapid Manufacturing, Systems and services for reverse engineering, Additive technology, Materials, Services, Hardware: 3D printers and scanners, accessories, Simulation and design software; Treatments and Finishes – Surface Treatment Plants, Furnaces, Electroplating, Chemical and Electronic Processes, Washing, Metallization, Enamelling, Galvanizing, Products and accessories for treatments, Heat Treatments, Painting; Non-Ferrous Materials and Alloys – Processing of non-ferrous materials (Aluminium, Titanium, Magnesium, Light Alloys), Die Castings, Foundries, Contract Industrial Processing, Technologies, Design, Engineering; Automation and Robotics – Automation and Robotics, Assembly, Assembly and Handling; Control and Quality – Certification and quality control, Metrology, Measuring instruments, Laboratory testing, Calibration, Analytical equipment, Vision; Power Drive – Mechanical power transmission devices, Hydraulics, Pneumatics, Mechatronics, Motion control, Maintenance, Compressed air.
METEF'S WORKING SECTORS
Raw materials | Die casting | Nonferrous foundry | Ferrous foundry | Extrusion | Rolling | Engineering and simulation | Finishing and processing | Recycling
About METEF
METEF, the international exhibition for aluminium, metal foundry and innovative materials technologies, launched for the first time in Italy in 1997 by Alfin-Edimet, is now in the portfolio of an equal joint venture of Veronafiere and BolognaFiere, and stands as a leading event in the international metallurgical segment, updated in concept, structure and location. METEF, whose organisation is entrusted to Senaf, will be held at the same time as MECSPE, the reference event for the manufacturing industry in Italy. The organisational and structural innovations of the new METEF aim at enhancing the role of a sector of extraordinary social and economic importance such as metallurgy and advanced light metal manufacturing , in the global market. This segment has been undergoing massive development and is already generating a turnover for the whole sector of over 40 billion euros in our country.
For further information
Press Office
MY PR – www.mypr.it
Roberto Grattagliano – cell 338 9291793 e-mail roberto.grattagliano@mypr.it
Caterina Conserva – cell 3401409543 e-mail caterina.conserva@mypr.it