Manufacturing and aluminium supply chains get together in Bologna, to the satisfaction of operators: 39.348 visitors and 2,000 exhibiting companies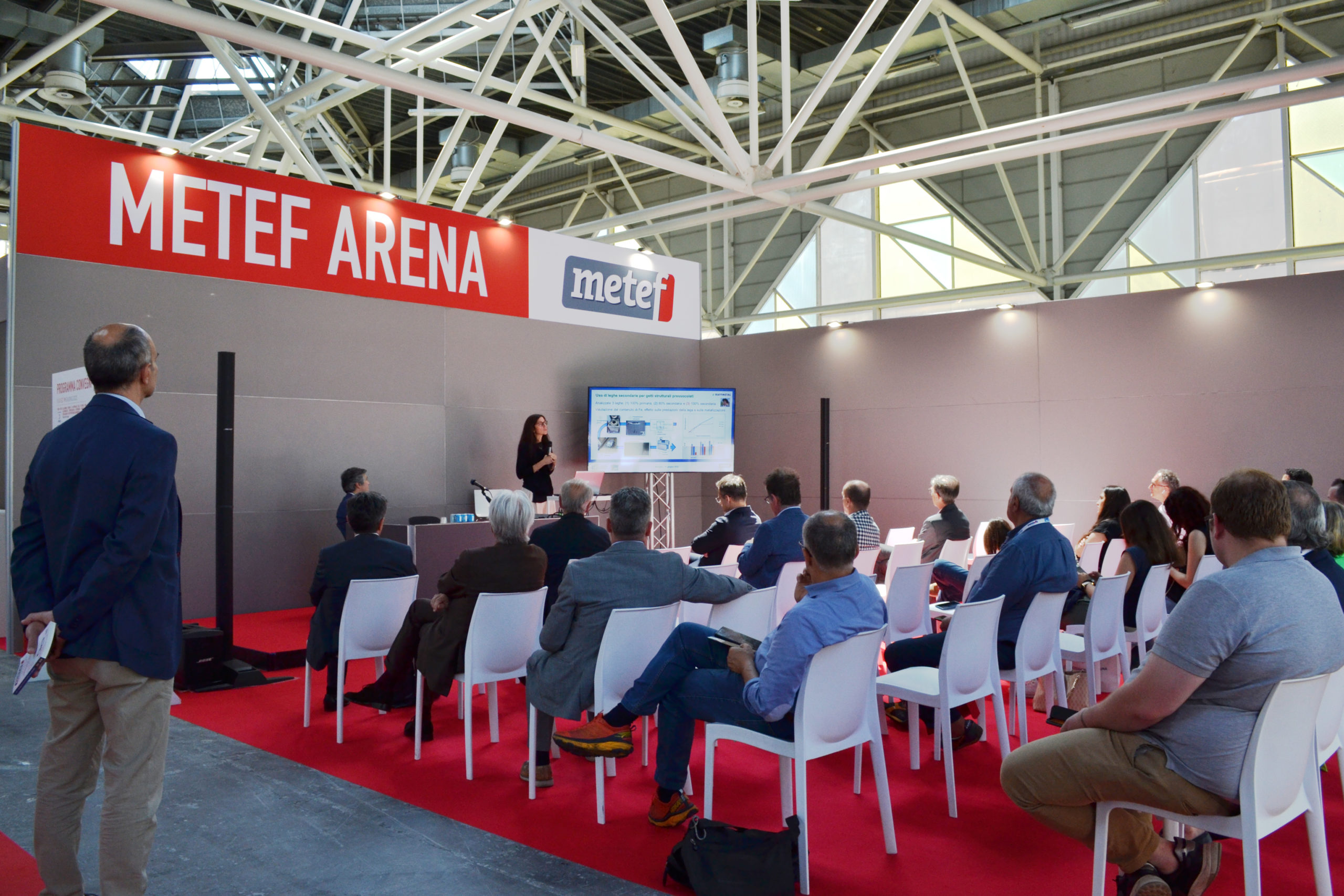 In 2023, MECSPE and METEF will be back in BolognaFiere, from March 30 to April 1
---
Milan, June 15, 2022 – The 20th edition of MECSPE, the exhibition on technologies and innovation for manufacturing, and the 12th edition of METEF, the international expo devoted to aluminium, organized by Senaf took place simultaneously for the first time, from June 9th to June 11th, at BolognaFiere, closing with an actual success. The two events, whose inauguration was also attended by Deputy Minister of Economy and Finance Laura Castelli, have reflected the vibrancy of the market and  also confirmed themselves as important hubs for the whole Italian and international industrial sector in 2022: suffice to say that 39.348 professionals have visited the 13 thematic halls and stands of the 2,000 exhibiting companies and participated in the many special initiatives and conferences organized in the halls, which have covered 92,000 square meters of exhibition space.
The 2022 MECSPE event  was a transit edition: in 2023, the  historic dates of March in 2023 will be restored. However, the 2022 edition has met the expectations of professionals, who come to the exhibition expecting a strong payoff, "come find the idea you're missing."
The motor, white, luxury, automatic machinery, mechanical and plastic processing, logistics and aluminium districts have been able to visit the stands of 2,000 companies on display, finding innovative people and solutions. From new materials produced by recycling coffee pods, to the most innovative plastic, metal and large-scale additive manufacturing machines, from reverse engineering equipment to the extreme accuracies of the latest chip removal machines.
After being welcomed by a well-wishing industrial robot placed at the main entrance of Piazza Costituzione, visitors were able to appreciate the installation of information holograms introducing them to the Mecspe Live Academy area, the exhibition heart of the 2022 edition, created in collaboration with the six Competence Centres and companies. The holograms' purpose was explaining  how the application of new technologies can improve the companies' production process and involve young people in the fascinating world of industrial processes.
Mecspe, has thus relaunched its strategic role in pooling, comparing and promoting synergies between professional operators in the specialized mechanics and Industry 4.0 sectors, also thanks to the presence of foreign buyers. The program, rich in content and special initiatives, was developed along the three themes of digitization, sustainability, and education, which are essential for business growth. The 20th edition also has also seen the debut of the Facilitated Finance Square, managed by Innova Finance, which organized some 50 meetings to show entrepreneurs the financial and fiscal tools available to businesses; this activity is vital to obtain funding at more advantageous conditions than those of the market, thus allowing business development, optimizing resources, supporting investment and promoting innovation.
Great focus was placed on one of the most heartfelt issues in the business world, namely sustainability. Aluminium is among the key players of this transformation: it has been defined as the "metal of the future" because of its flexibility and endless re-usability, which are key features in making the industrial sector even more sustainable and efficient. The Green Aluminum Conference has stood out at METEF 2022, showing the metal's potential on the circular economy and energy efficiency front. This edition has also marked the debut of the new Premio Pressocolato Italia awarded to Fondital due to the important contribution in the field of sustainability and innovation by its die-cast.
For next year, MECSPE will go back to its historic dates and double the exhibition days: in fact, it will be held at the same time as METEF, from March 30 to April 1, 2023, in BolognaFiere. For the second time, MECSPE will also be held in Bari, from November 23 to 25 with "Focus Mediterraneo," an edition devoted to the development of 4.0 technologies and a proposal increasingly focused on the sustainability and innovation of production processes.
"We closed this edition with significant participation of manufacturing professionals: we can be really satisfied about it," Emilio Bianchi, director general of Senaf, has commented, "The challenges that the industrial sector has shown itself capable of tackling in recent months have not affected the growth drive of companies, which continue to look to the future. The next steps will have to be taken in the direction of digital transformation and green transition; in this MECSPE, we will continue to develop innovative projects to support SMEs in the upgrading of the skills required for the proper use of new technologies and bring new generations closer to modern manufacturing. Therefore, choosing to return to Bari also in 2023, will be even more impactful: MECSPE will be held there for the second time, to continue the journey we have already started with local companies."
"METEF continues to look to the future of the industry, and the large amount of attendees has confirmed that we are going into the right direction ," Mario Conserva, President of METEF, has commented. "Our goal, also for next year, is to act as a connector between the diverse souls of the aluminium supply chain, at the national and international level. In 2022, METEF has regained its soul, confirming that it is an ideal place for exhibitors and trade visitors to get together and attract potential new customers, as well as for industry specialists to get to meet each other and renew their relationships and synergies."
Facts of MECSPE and METEF 2022
92,000 square metres of exhibition space, 2,000 square metres of the Cuore Mostra MECSPE LIVE ACADEMY, 16 special initiatives and conferences.
MECSPE Exhibitions
Machines and Tools – Machine tools, Equipment, Tools and Design Software; Machines, Materials and Sheet Metal  Working – Bending, Stamping, Cutting, Assembly, Welding, Materials and Software; Digital Factory – Industrial Informatics, IoT, Industrial Sensing, Cloud-manufacturing, Automatic Identification Technologies, Applications, Devices, Instrumentation and Intelligent Components for Process Interpretation and Interconnection; Logistics – Packaging, Packing, Handling, Material handling, Lean manufacturing, Warehouse management software, Supply chain management, Safety systems, PPE, Outsourcing; Mechanical Subcontracting – Precision mechanical processing, Metal carpentry, Mechanical construction, Fasteners, Foundries, Small parts, Wire processing, Contract industrial processing, Micromachining; Electronic subcontracting – Cem (contract electronics manufacturer), Wiring harnesses, Ems (electronics manufacturing service), PCB (printed circuit board manufacturers), Engineering and design offices; Eurostampi, Machines and plastic, rubber and composites subcontracting – Plastics, rubber and composites processing, Machines and plants, Auxiliary equipment, Innovative materials, Moulding, Extrusion, Packaging, Blowing, Moulds, Models, Standardised components for moulds, Design, Simulation and design software, Micromachining; Additive Manufacturing – 3D printing, Rapid prototyping, Rapid Manufacturing, Systems and services for reverse engineering, Additive technology, Materials, Services, Hardware: 3D printers and scanners, accessories, Simulation and design software; Treatments and Finishes – Surface Treatment Plants, Furnaces, Electroplating, Chemical and Electronic Processes, Washing, Metallization, Enamelling, Galvanizing, Products and accessories for treatments, Heat Treatments, Painting; Non-Ferrous Materials and Alloys – Processing of non-ferrous materials (Aluminium, Titanium, Magnesium, Light Alloys), Die Castings, Foundries, Contract Industrial Processing, Technologies, Design, Engineering; Automation and Robotics – Automation and Robotics, Assembly, Assembly and Handling; Control and Quality – Certification and quality control, Metrology, Measuring instruments, Laboratory testing, Calibration, Analytical equipment, Vision; Power Drive – Mechanical power transmission devices, Hydraulics, Pneumatics, Mechatronics, Motion control, Maintenance, Compressed air.
For further information, visit www.mecspe.com.
METEF'S WORKING SECTORS
Raw materials | Die casting | Nonferrous foundry | Ferrous foundry | Extrusion | Rolling | Engineering and simulation | Finishing and processing | Recycling
About METEF
METEF, the international exhibition for aluminium, metal foundry and innovative materials technologies, was launched for the first time in Italy in 1997 by Alfin-Edimet and is now in the portfolio of an equal joint venture of Veronafiere and BolognaFiere. It  stands out as a leading event in the international metallurgical segment and has been updated in terms of concept, structure and location. METEF, whose organisation is entrusted to Senaf, will be held at the same time as MECSPE, the reference event for the manufacturing industry in Italy. The organisational and structural innovations of the new METEF are aimed at enhancing the role played in the global market by a sector which is is extraordinarily important from the social and economic point of view,  such as metallurgy and advanced light metal manufacturing. This segment has been undergoing significant development and is already generating a turnover for the whole sector of over 40 billion euros in our country.
For further information visit www.mecspe.com.
For further information
Press Office
MY PR – www.mypr.it
Roberto Grattagliano – cell 338 9291793 e-mail roberto.grattagliano@mypr.it
Caterina Conserva – cell 3401409543 e-mail caterina.conserva@mypr.it
Stefania Bonetti – cell 340 2513708 e-mail stefania.bonetti@mypr.it